Get to know Quito
Hotel El Relicario del Carmen
Hotel El Relicario del Carmen is located in the historic center of Quito, where you will enjoy beautiful and unique views of historic houses and you will feel like you were in another era while you walk down the old and charming streets.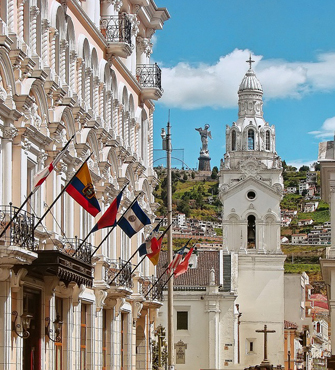 We are next to some touristic attractions like the Church of the Society of Jesus, the Panecillo monument and the Basilica of the National Vote and the Carondelet Palace, as well as the Independence Square.

Quito also offers a great variety of museums in which you will be able to learn and enjoy at the same time. You can't miss the Colonial Art Museum or the Numismatic Museum, as well as the Hispanic Culture Ecuadorian Institute or the Alabado House.

If what you are looking for is a unique and natural environment, you have to visit the Alameda Park, the Itchimbia Park and the El Ejido Park. Besides, 14 km away from the hotel you will find the Atacazo volcano, which you will have the chance of easily visit. This volcano has been inactive for more than 2300 years and, thanks to its more than 4000 meters of high, it offers many different routes and activities for all levels of experience.